Page 7 - CTS Unveiling 1st September 2017
P. 7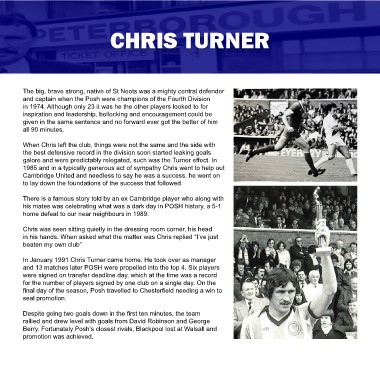 CHRIS TURNER

The big, brave strong, native of St Neots was a mighty central defender
and captain when the Posh were champions of the Fourth Division
in 1974. Although only 23 it was he the other players looked to for
inspiration and leadership, bollocking and encouragement could be
given in the same sentence and no forward ever got the better of him
all 90 minutes.

When Chris left the club, things were not the same and the side with
the best defensive record in the division soon started leaking goals
galore and were predictably relegated, such was the Turner effect. In
1985 and in a typically generous act of sympathy Chris went to help out
Cambridge United and needless to say he was a success, he went on
to lay down the foundations of the success that followed.

There is a famous story told by an ex Cambridge player who along with
his mates was celebrating what was a dark day in POSH history, a 5-1
home defeat to our near neighbours in 1989.

Chris was seen sitting quietly in the dressing room corner, his head
in his hands. When asked what the matter was Chris replied "I've just
beaten my own club"

In January 1991 Chris Turner came home. He took over as manager
and 13 matches later POSH were propelled into the top 4. Six players
were signed on transfer deadline day, which at the time was a record
for the number of players signed by one club on a single day. On the
final day of the season, Posh travelled to Chesterfield needing a win to
seal promotion.

Despite going two goals down in the first ten minutes, the team
rallied and drew level with goals from David Robinson and George
Berry. Fortunately Posh's closest rivals, Blackpool lost at Walsall and
promotion was achieved.