Page 6 - CTS Unveiling 1st September 2017
P. 6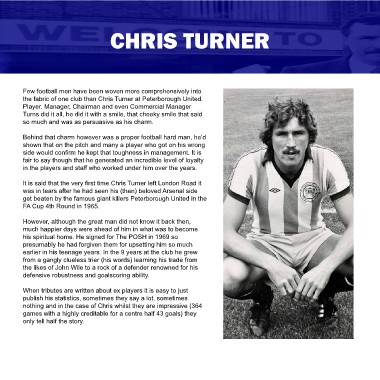 CHRIS TURNER

Few football men have been woven more comprehensively into
the fabric of one club than Chris Turner at Peterborough United.
Player, Manager, Chairman and even Commercial Manager
Turns did it all, he did it with a smile, that cheeky smile that said
so much and was as persuasive as his charm.

Behind that charm however was a proper football hard man, he'd
shown that on the pitch and many a player who got on his wrong
side would confirm he kept that toughness in management. It is
fair to say though that he generated an incredible level of loyalty
in the players and staff who worked under him over the years.

It is said that the very first time Chris Turner left London Road it
was in tears after he had seen his (then) beloved Arsenal side
get beaten by the famous giant killers Peterborough United in the
FA Cup 4th Round in 1965.

However, although the great man did not know it back then,
much happier days were ahead of him in what was to become
his spiritual home. He signed for The POSH in 1969 so
presumably he had forgiven them for upsetting him so much
earlier in his teenage years. In the 9 years at the club he grew
from a gangly clueless trier (his words) learning his trade from
the likes of John Wile to a rock of a defender renowned for his
defensive robustness and goalscoring ability.

When tributes are written about ex players it is easy to just
publish his statistics, sometimes they say a lot, sometimes
nothing and in the case of Chris whilst they are impressive (364
games with a highly creditable for a centre half 43 goals) they
only tell half the story.